Bibliotherapy | War trauma | World War I | Wounded veterans
15 November 2018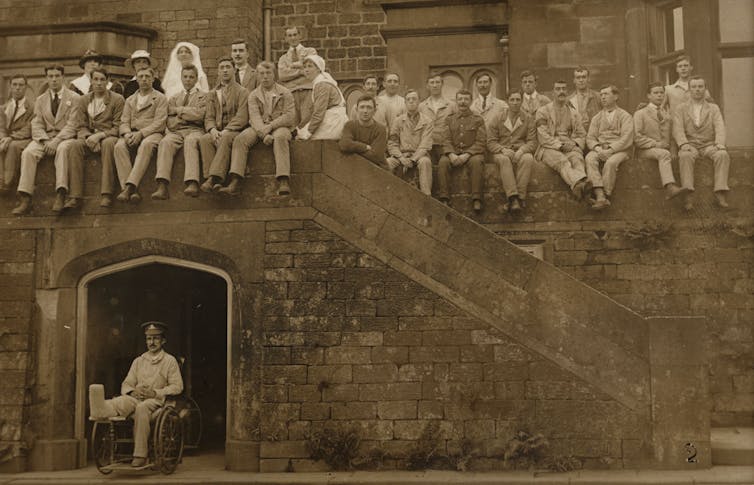 Bibliotherapy – the idea that reading can
have a beneficial effect
on mental health – has
undergone a resurgence
. There is mounting clinical evidence that reading can, for example, help people
overcome loneliness
and social exclusion.
One scheme in Coventry
allows health professionals to prescribe books to their patients from a list drawn up by mental health experts.
Even as public library services across Britain are cut back, the healing potential of books is
increasingly recognised
.
The idea of the healing book has a long history. Key concepts were forged in the crucible of World War I, as nurses, doctors and volunteer librarians grappled with treating soldiers' minds as well as bodies. The word "bibliotherapy" itself was coined in 1914, by American author and minister
Samuel McChord Crothers
. Helen Mary Gaskell (1853-1940), a pioneer of "literary caregiving", wrote about the
beginnings of her war library
in 1918:
Surely many of us lay awake the night after the declaration of War, debating … how best we could help in the coming struggle … Into the mind of the writer came, like a flash, the necessity of providing literature for the sick and wounded.

The well-connected Gaskell took her idea to the
medical
and
governmental
authorities, gaining official approval.
Lady Battersea
, a close friend, offered her a Marble Arch mansion to store donated books, and The Times carried multiple successful public appeals. As Gaskell wrote:
What was our astonishment when not only parcels and boxes, but whole libraries poured in. Day after day vans stood unloading at the door.
Read more...