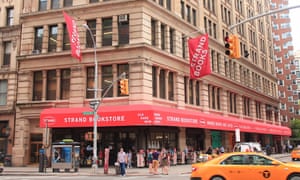 'One summer there was this huge fight between a couple of employees that spilled out through the book carts on the sidewalk and onto Broadway. Middle of the afternoon, books scattered all in the street, everyone's screaming' ... Strand anecdotes. Photograph: All images courtesy of The Strand


T
he Strand was born in 1927 on Fourth Avenue on what was then called "Book Row." Book Row covered six city blocks and housed 48 bookstores. Ben Bass, an entrepreneur at heart and a reader by nature, was all of 25 years old when he began his modest used bookstore with 300 dollars of his own and 300 dollars that he borrowed from a friend.
Ben sought to create a place where books would be loved, and book lovers could congregate. He named his bookstore after the London street where writers like Thackeray, Dickens, and Mill once gathered and interesting book publishers thrived. The Strand quickly became a Greenwich Village institution where writers went to converse, sell their books and find a hidden treasure to buy. Today, the Strand is the sole survivor of Book Row's colorful past, boasting more than 18 miles of new, used, and rare books.
What's your favorite section in the store?
The Rare Book Room is truly a magical place, and the dollar carts are heaven for any thrifty booklover, but my favorite would have to be the children's department, especially the classic and vintage sections. I really love an old book with some character or with a heartfelt dedication from a bygone era.
–Maya S, Kids Department Read more...