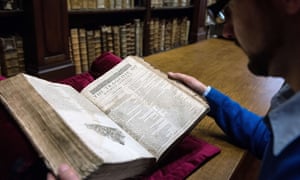 About the only drawback is dismissiveness from my friends and family. A working-class male taking a degree to be a
what
? Photograph: Denis Charlet/AFP/Getty Images
"W
ho would want to become a librarian now?"
asked an anonymous public servant
on National Libraries Day, seeing before them a graveyard of dead libraries and old reference desks filled by volunteers. A valid question, and one to which I'll reply: "You know what? I'll have a go."
I'm training to be a professional librarian, having just finished a lecture on "semantic web ontologies" and "linked data", and sat dumbstruck in front of a "Dewey Decimal assembler" without a clue as to what I'm looking at. The course is challenging – it's a three-year master's degree that bites eye-watering chunks out of my wages. Why am I doing it to myself?
The fact is, I can't not. It's a sort of calling – like becoming a priest, only with warmer business premises. I can't stand by and let public libraries sink. I won't.
Forget all about reading as a pleasure, forget that children should have unlimited access to books, throw away arguments about
libraries being lifelines
for those less fortunate – they're falling on deaf ears. You just have to look at the comments beneath pro-library articles to gather a general response: Kindles, the internet replacing information needs, and so on. And the one we wheel out about libraries being the centre of the community – there'll be someone swatting that old classic aside with a "and yet the majority of the population doesn't use them".
For me, it boils down to one important point: the internet is a shallow (but extremely wide) surface-level summary of secondary, often opinionated information that sits on a bedrock of substantive knowledge that either isn't on the internet, or lives behind a paywall, or is too expensive to purchase. Public libraries broker equal access to all that stuff. Get rid of them, and your information becomes drip-fed through Google filters (if you have a computer to access it).
Read more...