Fake news | Media literacy | Social Media
by Emma Hinchliffe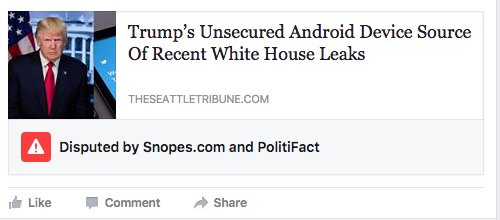 Since people first started complaining about "fake news" on Facebook, the phrase has evolved—from a useful way to identify false-information-masquerading-as-traditional-news, to a term that means basically nothing, now wielded by President Donald Trump against stories he doesn't like, and also, drunk people in bars screaming about things and/or sports results they disagree with.
But the original problem still genuinely exists. And Facebook finally came out with its long-awaited response to beginning to cut away at the issue.
Spotted on Twitter
on Friday night, the tool identifies links to sites known to produce misinformation. The tool cites third-party fact-checking organizations like Snopes and Politifact—the kind of sites that Trump supporters also like to dispute.
Read more...